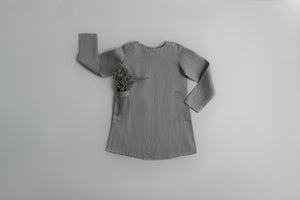 'Mia' is an A-Line, full sleeves dress for girls. This is a no-fuss, comfy dress for active girls. It's got box pleats at the back.
What we love most about it: The sheer organza pockets.
Product Details
Colour: Grey
Fabric: Linen + copper buttons at the back.
Lining: Cotton
Care Instructions: Hand Wash SEPARATELY only or Dry Clean.