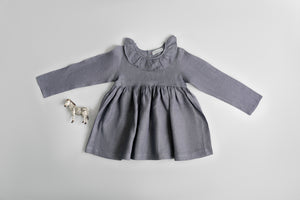 Charlotte is a formal tee for girls, with a vintage yet modern style. The ruffled neck adds playfulness to the tee. This linen girls' tee can be worn with jeans, pants, leggings or skirts. This is a full sleeved tee, with copper buttons at the back. 
What we love most about it: Elegant ruffles on the neck. Copper buttons at the back.
Product Details
Colour: Grey 
Fabric: Linen
Care Instructions: Hand Wash SEPARATELY only or Dry Clean.