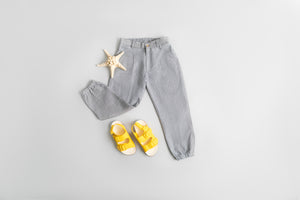 Aspen is a pair of gender neutral joggers for girls and boys. The cool fabric makes it super comfortable to wear. These joggers for kids have a flexi (elastic band) at the back of the waist. A wardrobe classic.
What we love most about it: The colour!
Product Details
Colour: Grey
Fabric: Linen 
Care Instructions: Hand Wash SEPARATELY only or Dry Clean.