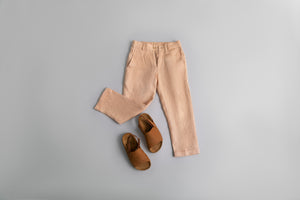 'Jean' is wardrobe essential for kids. This pair of linen pants is from our Gender Neutral clothing for kids. The fabric is light and breathable, and the tailoring is absolutely comfortable, allowing kids to spend all day in it without complaint! 
What we love most about it: It's so beachy!
Product Details
Colour: Beige
Fabric: Linen 
Care Instructions: Hand Wash SEPARATELY only or Dry Clean.