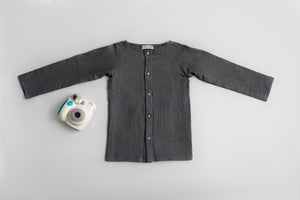 Eli is a linen tee for boys and girls. This breezy tee is from our gender neutral line for kids. The full-sleeves along with a comfortable neckline and copper buttons give it a minimal yet chic look. You can team this up with casual pants, jeans, skirts, shorts or even use it as a jacket.
What we love most about it: The copper buttons on the dark grey!
Product Details
Colour: Dark Grey
Fabric: Linen 
Care Instructions: Hand Wash SEPARATELY only or Dry Clean.